Investing in COVID-19 Community Resilience
Investing in COVID-19 Community Resilience
On this page
The Government of Canada is adapting the Investing in Canada Infrastructure Program to respond to the impacts of COVID-19. The Program, delivered through bilateral agreements with provinces and territories, is being adjusted to add some flexibilities, expand project eligibility and accelerate approvals.
Investing in Canada Infrastructure Program: COVID-19 Resilience stream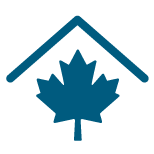 A new temporary COVID-19 Resilience stream, with over $3 billion available in existing funding, has been created to provide provinces and territories with added flexibility to fund quick-start, short-term projects that might not otherwise be eligible under the existing funding streams.
The flexibility to transfer up to 10 percent of original stream allocations to the new COVID-19 Resilience stream to help mobilize their remaining funds under the Investing in Canada Infrastructure Program.
An accelerated approvals process that will enable provinces and territories to submit multiple projects at a time, with a single simplified application that streamlines program requirements and reduces upfront administrative burdens, to ensure that communities can start work on their projects as soon as possible.
Project size and cost sharing
The maximum size of projects under the stream is set at $10M total eligible costs. For projects under the COVID-19 Resilience stream, the maximum federal contribution from all sources will be:
Up to 80% for provinces,  municipalities and not-for-profit organizations in the provinces
Up to 100% for territories, municipalities and not-for-profit organizations in the territories
Up to 100% for Indigenous ultimate recipients in provinces and territories
Up to 25% for for-profit private sector ultimate recipients
Eligible infrastructure projects
The new stream will support the following types of projects:
Retrofits, repairs and upgrades for municipal, territorial, provincial and Indigenous buildings, health infrastructure and schools;
COVID-19 response infrastructure, including measures to support physical distancing;
Active transportation infrastructure, including parks, trails, foot bridges, bike lanes and multi-use paths; and
Disaster mitigation and adaptation projects, including natural infrastructure, flood and fire mitigation, and tree planting and related infrastructure.
The stream supports near-term, quick- start projects and  projects must respect the following timeframes:
Construction must start no later than September 30, 2021; and,
Projects must be completed by the end of 2021, or by the end of 2022 in the territories and in remote communities.
How to apply
Projects submitted for approval under the COVID-19 Resilience stream are first prioritized by the province or territory and then submitted to Infrastructure Canada.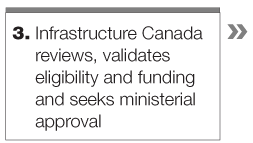 Text version

Applicants submit their projects to the province or territory*
Province or territory prioritizes projects and submits to Infrastructure Canada
Infrastructure Canada reviews, validates eligibility and funding and seeks ministerial approval
Projects begin and funding flows when costs are incurred**
*Applicants are encouraged to reach out to the existing provincial and territorial ministries that deliver on the other Investing in Canada Program streams on prioritization of projects.
**Funds are delivered to provinces and territories through their bilateral agreements with Infrastructure Canada, which must be amended before project lists can be submitted.
Other flexibilities in response to COVID-19
In addition to the COVID-19 Resilience stream, other flexibilities have been introduced under the Investing in Canada Infrastructure Program to help accelerate the launch of new projects, including:
The addition of more eligible project categories to the existing program streams so that provinces, territories and municipalities can continue to invest in the infrastructure that is most important to them.
The streamlining of some administrative requirements to support more timely reviews and approvals.
Report a problem on this page
Date modified: